Course Schedule
We're constantly adding new dates and locations for public presentations of Teracom's very popular courses to our schedule. To see the latest schedule, please visit our web site at www.teracomtraining.com.
How to Register
Space in our seminars is limited, and may sell out, so please register as early as possible to reserve your place. You can register online or by phone:
Register online at www.teracomtraining.com.
Register by phone at 1-877-412-2700.
Once you register online or call us, we'll e-mail you back a registration package, including a confirmation letter for you to sign and fax back to complete your registration.
Tuition Fees
We accept Visa, MasterCard and American Express, as well as checks and purchase orders.
Your Course Materials:
An Invaluable Reference
Every course comes complete with a high-quality comprehensive workbook / textbook that's been called the best on-the-job reference tool around. Written in plain English, this easy-to-use reference includes copies of all graphics PLUS extensive detailed accompanying text.

Topics are organized in logical groups to give you easy reference after the seminar to the practical experience, theoretical background, and unbiased information on industry technologies, products and trends you'll need.

With numerous chapters covering all major topics, you'll obtain an invaluable resource impossible to find anywhere else in one book.
Recommended telecommunications training sites and resources
Teracom Training Institute: Telecommunications training, VoIP training, telecom training seminars, courses, DVD video, elearning and free tutorials
Telecommunications tutorials
Telecommunications Certification Organization: get certified in telecommunications, voip, wireless technology
Telecom 101: telecommunications reference book and textbook
Telecommunications in Canada: history and overview of Canadian telecommunications
The Telecom Training Channel: online downloadable elearning telecom, datacom, networking, wireless and VoIP videos and tutorials
Telecom training, VoIP training, wireless training seminars and courses
VoIP training course
Telecom Training
Telecom, Datacom and Networking for Non-Engineers course
Training on DVD/Video
Self-paced DVD video courses: ideal for those who need to learn about telecom, datacom, networking, IP, wireless and VoIP outside of structured seminars. Our current library includes:
V1 Fundamentals of Telecom 1:

The PSTN · Telephony · Telecom Equipment · The Telecom Industry

V2 Fundamentals of Telecom 2:

Digital Voice · DS0-DS3 · TDM · T1 · T3 · ISDN · SONET · Fiber · DWDM

V3 Fundamentals of Datacom and Networking:

WANs and LANs · MAC Frames, IP Packets · Network "Cloud"

V4 Understanding Networking 1:

OSI Layers · Protocol Stacks · The FedEx Analogy · IP Addressing, DHCP, NAT · Bandwidth on Demand Services · Frame Relay · ATM · MPLS

V5 Understanding Networking 2:

Internet · ISPs · Security · Viruses · Firewalls · Encryption · IPsec · VPNs

V6 Understanding Wireless 1:

Wireless Fundamentals · Cellular: CDMA, TDMA, GSM, GPRS · 3G: UMTS, CDMA2000, 1X, 1XEV-DO · Wireless Web

V8 Understanding Voice over IP 1:

Components · Standards · Architectures

V9 Understanding Voice over IP 2:

Voice Packetization · Quality · Codecs, Jitter, Packet Loss · Diff-Serv · Network QoS with MPLS

V10 Understanding Voice over IP 3:

SIP and IP Call Flow · Carrier Interconnect · Megaco
Each course comes with an approx. 2-hour full-color multimedia DVD combining an on-camera instructor, extensive graphics and point-by-point bullets, along with a comprehensive workbook/textbook with copies of all graphics and detailed reference notes sure to be a valuable reference for years to come. It's as close as you can get to private lessons from the Director of the Institute without actually being there. PLUS, each course comes with an online test and certification suitable for framing.

We are offering some very special pricing packages including our core training package (V1-V5) at US$879 for the set of five courses on DVD with detailed workbooks. Other packages including the full library and individual courses are also available.

Compare this to $500 for one course on CD or VHS elsewhere and you'll agree that this is a very good deal. Hundreds of organizations have purchased our video sets!

Order today to make this invaluable addition to your telecommunications training library.

Please visit teracomtraining.com for full details.
Bring This Course To Your Location
Since 1992, we have provided high-quality on-site training at 3Com, Qualcomm, Intel, Cisco, Nortel, AT&T, Alcatel, Kyocera, T-Mobile, Ericsson/Hewlett-Packard, Verizon, MindSpring, APEX Telecom, Equifax, Transamerica Insurance, CNA Insurance, the US Air Force, Bell Canada, Bell Mobility, Cap Gemini, ComSec Establishment, MicroCell, TDS Telecom, Western Wireless... to name a few.
Onsite training has special advantages:
Your personnel will be up to a common speed with a solid knowledge base.
We'll fill in the gaps and put in place productivity-enhancing structured understanding.
The seminar will be a strong team-building exercise.
Significant reductions in training costs are often achieved.
Each student receives a detailed workbook / textbook that will be a valuable reference for years to come.
We have built a solid reputation for delivering high-quality onsite private team-training programs that are a resounding success. Please contact us at 1-877-412-2700 or visit our web site for information on bringing this training to you.
About the Author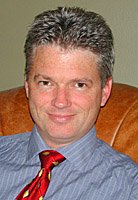 Eric Coll is an international expert in telecommunications, data communications and networking and has been actively involved in the industry since 1983. He holds Bachelor's and Master of Engineering (Electrical) degrees, and is licensed as a Professional Engineer in his home jurisdiction.

Mr. Coll has taught telecommunications technology training seminars to wide acclaim across North America since 1992, and has broad experience working as an engineer in the telecommunications industry.

He has worked for Nortel's R&D labs as a design engineer on projects including digital voice and data communications research and digital network equipment design; on satellite radar systems; Wide Area Network design for HMO applications; and many other projects in capacities ranging from detailed design and implementation to systems engineering, project leader and consultant.